I smell opportunity, and it smells like cereal.
Cereality is looking to align with partners who share our values, philosophy and attitudes. If you're interested in a dynamic, cutting edge opportunity, read on to see how you can become a part of Cereality.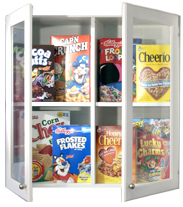 Traditional Franchise Opportunities
Multi-Unit Development Agreements: Cereality will consider exclusive development agreements with experienced multi-unit operators in new markets, provided you:
Have successful operating experience in foodservice and/or retail outlets.
Have built and opened multiple franchise units in the target markets.
Have successfully introduced a new brand into your market.
Have the capital available to build 20+ Cereality locations over a 5 year period.
Agree with the Cereality core values and business philosophy.
Please send us a letter of introduction describing how your company meets the above criteria and why you would make a good match for Cereality.
Non-Traditional Franchise Opportunities
Cereality is interested in selective licensing agreements in non-traditional venues like colleges, high-rise office buildings, hospitals, airports, and arenas. We will also consider non-foodservice settings like megamarkets and big box stores. To be considered you must:
Control a high sales volume site.
Have a proven record of high occupational standards.
Have demonstrated the ability to work within a national brand.
If you are interested in pursuing these opportunities with Cereality, please mail a letter of introduction describing how your company satisfies the above criteria. Please also include details of the sites you currently control.
All letters of introduction can be sent to:
Cereality Operators, Inc.
2525 Arapahoe Avenue, Suite E4-312
Boulder, CO 80302
Attention: Greg Socha

Or you can email greg@cereality.com

Thank you for your interest in Cereality. Please allow a minimum of 3 weeks from receipt of your letter for a response.

THE MATERIALS ON THIS WEBSITE REGARDING THE CEREALITY FRANCHISE OPPORTUNITY ARE FOR GENERAL INFORMATION ONLY AND ARE NOT INTENDED TO BE THE OFFER OF A FRANCHISE TO ANYONE ACCESSING THIS SITE. OFFERS AND SALES OF A FRANCHISE ARE MADE ONLY AFTER THE DELIVERY OF A CURRENT FRANCHISE OFFERING CIRULAR IN COMPLIANCE WITH APPLICABLE FEDERAL AND STATE LAW.

THE FOLLOWING STATES REQUIRE REGISTRATION: CALIFORNIA, HAWAII, ILLINOIS, INDIANA, MARYLAND, MICHIGAN, MINNESOTA, NEW YORK, NORTH DAKOTA, RHODE ISLAND, SOUTH DAKOTA, VIRGINIA, WASHINGTON AND WISCONSIN. HOWEVER, CEREALITY MAY BE IN THE PROCESS OF REGISTERING OR BE WILLING TO SEEK REGISTRATION OF OUR FRANCHISE OFFERING. YOU SHOULD CHECK WITH US REGARDING THE AVAILABILITY OF A FRANCHISE IN ANY PARTICULAR STATE.